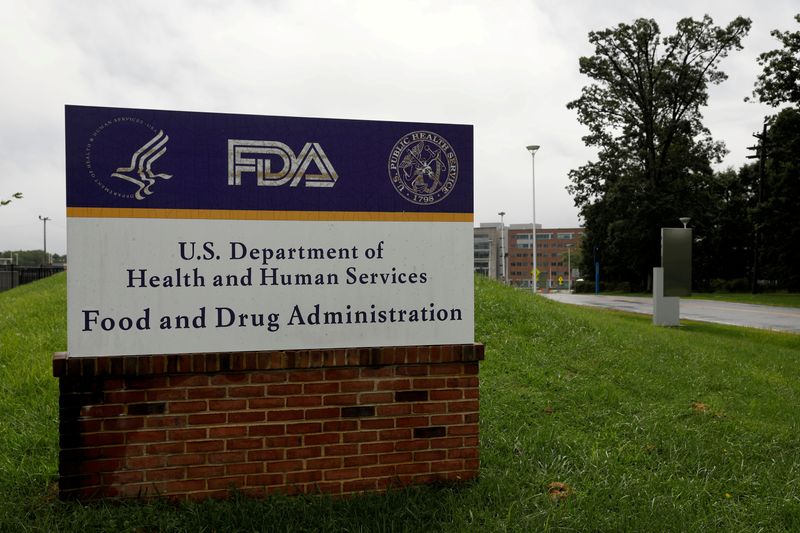 © Reuters. FILE PHOTO: Signage is seen outside of the Food and Drug Administration (FDA) headquarters in White Oak, Maryland, U.S., August 29, 2020. REUTERS/Andrew Kelly/File Photo
(Reuters) – The U.S. drug regulator on Monday authorized updated COVID-19 vaccines from Pfizer (NYSE:) and Moderna (NASDAQ:) that closely match the widely circulating Omicron variants, allowing the deployment of the shots to start as soon as this week.
The U.S. Food and Drug Administration (FDA) approved the shots, which target the XBB.1.5 subvariant, for those aged 12 and above, and authorized them for emergency use in children aged 6 months through 11 years.
A third shot, made by Novavax (NASDAQ:), is still under review by the FDA. Novavax said it did not expect its shot to be authorized in the United States before the Centers for Disease Control and Prevention (CDC) advisors' Tuesday meeting to recommend who should receive the updated shots.
Shares of Novavax fell 10.7% in afternoon trading.
"It would be nice to have a complete approval on it (Novavax's shot). But obviously that requires that FDA have decided the data supports it," said Jesse Goodman, a professor at Georgetown and former FDA chief scientist.
Moderna and Pfizer, which is partnered with German biotech firm BioNTech SE (NASDAQ:), said the updated vaccines were expected to be available the United States in the coming days.
The FDA authorization comes after a late summer rise in cases, at a time the new EG.5 subvariant of Omicron — nicknamed "Eris" — has begun to rapidly spread in the country and in other parts of the world.
An endorsement by CDC Director Mandy Cohen, expected shortly, should clear the way for the new shots. Cohen has said she expects the shots to roll out in September.
The COVID public health emergency ended in May and the government has handed over the responsibility of vaccinations to the private sector, following which the demand for the vaccine has dropped sharply.
COVID vaccines will still be free for most Americans with health insurance coverage.
The CDC and the country's government have said they will start a program to help those without cover to get the shots for free through local health providers and pharmacies.