Cryptocurrency 59 minutes ago (Oct 29, 2022 05:20PM ET)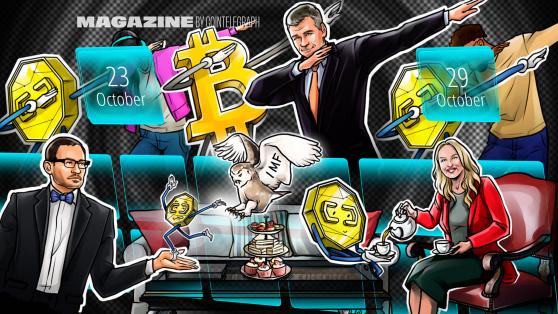 Musk fires Twitter execs, research stirs blockchain energy debate and CFTC brass shares crypto concerns: Hodler's Digest, Oct. 23-29
Coming every Saturday, Hodlers Digest will help you track every single important news story that happened this week. The best (and worst) quotes, adoption and regulation highlights, leading coins, predictions and much more a week on Cointelegraph in one link.
Twitters top brass gutted as Elon Musks takeover begins
Elon Musks purchase of Twitter became final this week, after which he reportedly fired three top-level executives: CEO Parag Agrawal, head of legal and policy Vijaya Gadde and chief financial officer Ned Segal. Musk reportedly claims the three were dishonest about Twitter spam accounts an issue that almost caused Musk to abandon the Twitter deal. On a more positive note, Musk said he has big plans for Twitter, including ensuring free speech on the platform. Twitter also commanded other headlines this week as Binance invested $500 million in the platform, and the New York Stock Exchange delisted the now-private company.
Kazakhstan to build central bank digital currency on BNB Chain
Report: Vast majority of blockchain energy studies lack scientific rigor
federal budget reaffirms BTC wont be treated as foreign currency
Equifax (NYSE:), known for huge data breach, is building a Web3 KYC solution
Analyst puts price at $30K next month with breakout due
CFTC commissioner compares crypto contagion risk to 2008 financial crisis
3Commas issues security alert as FTX deletes API keys following hack
Bithumb ex-chairman could face 8 years in prison over alleged $70M fraud
Crypto City: Guide to San Francisco Bay Area
Building community resilience to crises through mutual aid and Web3
at the center of centralization debate as SEC lays claim
Subscribe
The most engaging reads in blockchain. Delivered once a week.
Related Articles