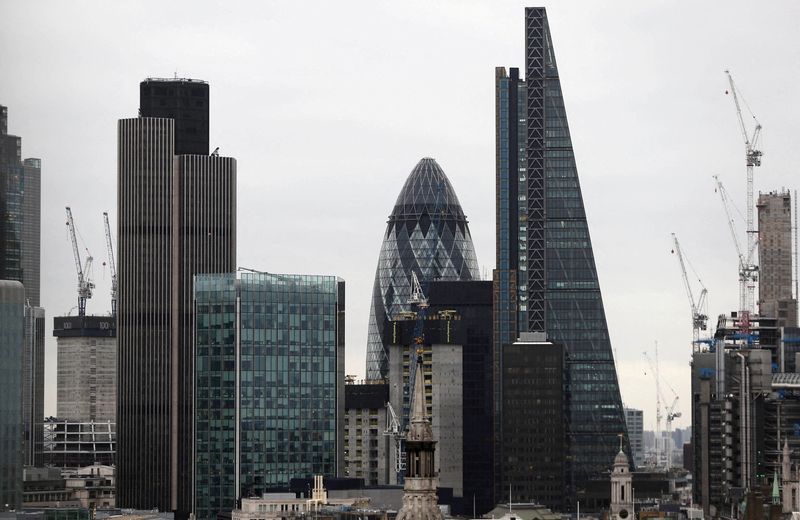 © Reuters. FILE PHOTO: A view of the London skyline shows the City of London financial district, seen from St Paul's Cathedral in London, Britain February 25, 2017. REUTERS/Neil Hall/File Photo
By Amy-Jo Crowley
LONDON (Reuters) -Three major bidders for the consumer data arm of UK business media group Ascential have walked away from the auction, people familiar with the situation said, putting a question mark over attempts to break up the 1 billion pound ($1.29 billion) group. 
London-listed Ascential had intended to sell the business, known as WGSN, as part of a break-up plan announced in January, and began in April talking to potential bidders. The plan would also see Ascential spin off its Digital Commerce business and list it in New York.
But in recent weeks, three bidders walked away from the auction without making a formal offer, although there is still at least one potential buyer, the people said.
Apax Partners, one of Europe's biggest private equity firms, was the latest to exit the process, joining BC Partners and U.S. media group Hearst Communications in dropping its bid for the business, which provides data that helps brands understand consumer trends, three people familiar with the matter told Reuters.
Although the talks could yet be restarted, their exit deals a blow to the auction and highlights the tough environment for dealmaking.
Several people involved in the process had rated Apax as a likely buyer after it conducted extensive work on a bid and as a former owner of the company that is up for sale. Apax and Ascential declined to comment.
Apax stopped working on the deal before last week's binding offer deadline because it thought the price being asked was too high, two of the people added.
Ascential's board wanted more than 700 million pounds to return cash to shareholders and put money into its loss-making e-commerce unit, one of the people said. But bidders including Apax value the business at less than that, partly because of WGSN's modest growth prospects, the person said.
Ascential's product design unit, in which WGSN sits, generated 49 million pounds of adjusted annual earnings before interest, tax, depreciation and amortisation (EBITDA) in 2022, up from 41 million pounds a year earlier.
The people cautioned conversations with Apax and others could restart if Ascential lowers its valuation.
JPMorgan (NYSE:), which is advising Ascential on the WGSN sale, is now facilitating one-on-one talks with potential bidders such as California-based private equity firm STG, two of the people said.
STG, which has $10 billion of assets under management, focuses on the mid-market enterprise software and technology services sector. STG, which did not respond to requests for comment, bought cybersecurity firm McAfee's enterprise business in 2021.
Analysts earlier this year estimated a sale of WGSN could fetch more than 800 million pounds including debt, or 16-18 times its expected 2023 earnings before interest, tax, depreciation and amortisation.
Earlier this year, HSBC analysts valued Ascential at 2.2 billion pounds ($2.74 billion) if the businesses are separated as planned, compared with a current market value of about 1 billion pounds.
Apax originally took a controlling stake in Ascential in 2008 when it was known as EMAP, before listing the business in 2016 and selling its remaining stake the following year.
($1 = 0.7747 pounds)