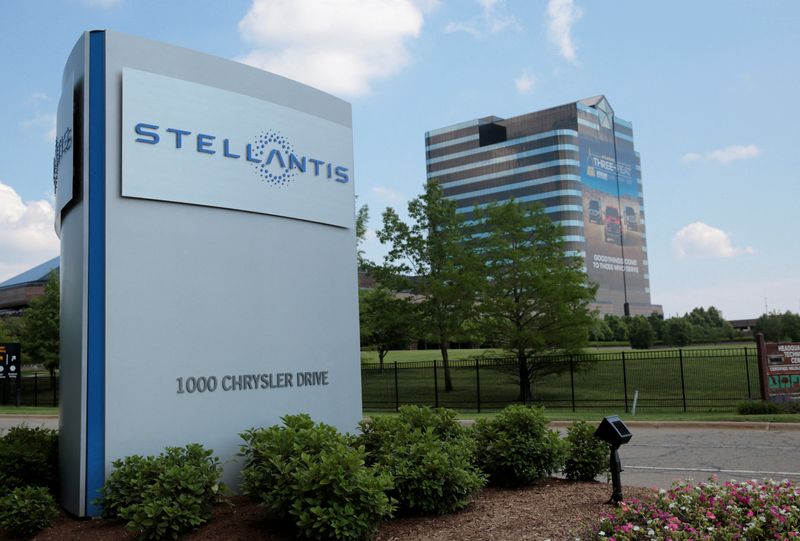 © Reuters. FILE PHOTO: A Stellantis sign is seen outside its headquarters in Auburn Hills, Michigan, U.S., June 10, 2021. REUTERS/Rebecca Cook/File Photo
By David Shepardson
(Reuters) -Chrysler parent Stellantis (NYSE:) said Friday it offered U.S. hourly workers a 14.5% wage hike over four years in its offer to the United Auto Workers union ahead of a Sept. 14 contract expiration.
The offer is much less than the 46% wage hike being sought by the union. The UAW has said 97% of members voted in favor of authorizing a strike if an agreement is not reached.
General Motors (NYSE:) said Thursday it had offered workers a 10% wage hike and two additional 3% annual lump-sum payments over four years. Stellantis is not offering additional lump-sum payments.
Last week, Ford (NYSE:) said it had offered a 9% wage increase through 2027 and 6% lump sump payments. It was set to make a new offer on Thursday, a UAW official said.
The Stellantis offer – which did not specify how the 14.5% wage increase would be distributed over four years – is similar to GM and Ford's offers. It would hike minimum pay for temporary workers to $20 an hour – up $4.22 an hour – and reduce the time necessary to reach top wages for permanent autoworkers from eight years to six years.
"This is a responsible and strong offer that positions us to continue providing good jobs for our employees today and in the next generation here in the U.S.," Stellantis North America Chief Operating Officer Mark Stewart said in a letter to employees. "It also protects the company's future ability to continue to compete globally in an industry that is rapidly transitioning to electric vehicles."
The UAW said on Friday the Stellantis wage offer would not make up for inflation and "leaves workers even further behind" and that it did not include union job security and profit-sharing proposals.
The union's demands include a 20% immediate wage increase followed by four 5% annual wage hikes, defined-benefit pensions for all workers, 32-hour work weeks and additional cost-of-living hikes. GM is proposing to give employees an additional paid holiday.
UAW President Shawn Fain, who represents 146,000 workers at the Detroit Three automakers, said on Thursday GM's offer was "an insulting proposal."
Stellantis is offering $10,500 in inflation protection payments over the four years, while GM is offering $11,000 and Ford $12,000.