3/3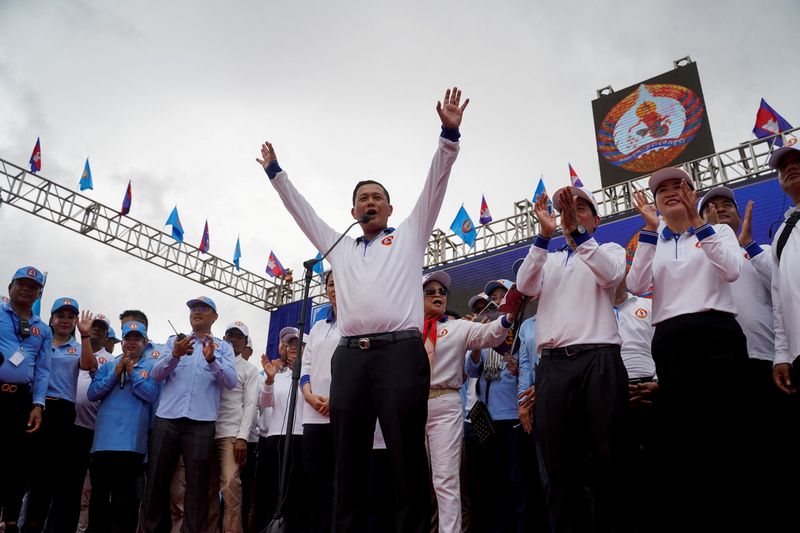 © Reuters. Hun Manet, son of Cambodia's Prime Minister Hun Sen, speaks during the final Cambodian People's Party (CPP) election campaign for the upcoming general election in Phnom Penh, Cambodia, July 21, 2023. REUTERS/Cindy Liu
By Prak Chan Thul
PHNOM PENH (Reuters) -Vote counting was underway in Cambodia on Sunday in a one-sided election certain to prolong the ruling party's dominance, clearing the path for a historic leadership transition and the end of the reign of one of the world's longest-serving premiers.
The contest was effectively a one-horse race, with Prime Minister Hun Sen's Cambodian People's Party (CPP), a political behemoth with a vast war chest, facing no viable opponent after a ruthless, years-long crackdown on its rivals.
Polls closed with a turnout of 78.3%, according to the National Election Committee, with 7.6 million people voting in a much-criticised contest between CPP and 17 mostly obscure parties, none of which won seats in the last election in 2018. There were no Western observers.
Former Khmer Rouge guerrilla Hun Sen, 70, has led Cambodia for 38 years and has brushed off all Western concern about the election's credibility, determined to prevent any obstacle in his carefully calibrated transition to his anointed successor and eldest son, Hun Manet.
No timeframe had been given for the handover until Thursday, when the self-styled strongman signalled his son "could be" prime minister next month, depending on "whether Hun Manet will be able to do it or not". He needs to win a National Assembly seat to become prime minister, which is likely.
LIKE FATHER, LIKE SON?
Hun Manet, 45, dressed in a green safari shirt, smiled and posed for selfies with supporters after voting in the capital Phnom Penh before a throng of media.
He ducked questions on the prospect of becoming premier and whether he would rule differently from his father. "No comment please, no comment please. I've just come to vote," he said in English, smiling.
Analysts had expected the transition to come mid-term, giving time for Hun Manet to earn legitimacy with the public and political elite.
"Transferring power while he is still physically and mentally well allows Hun Sen to strongly protect his son from any internal challenges," said Gordon Conochie, adjunct research fellow at La Trobe University and author of a new book on Cambodia's democracy.
"As long as Hun Sen is around, nobody will move against Hun Manet."
Hun Manet has given few media interviews and no clues over his vision for Cambodia and its 16 million people.
He earned a master's degree at New York University and a doctorate at the University of Bristol, both in economics, and attended the West Point military academy, helping him rise through the ranks of Cambodia's military to army chief and deputy armed forces commander.
Major powers will be watching closely for signs of whether Hun Manet will maintain the authoritarian status quo of his father or pursue greater liberalisation and a more Western style of democracy.
A key focus will be if he seeks to steer Cambodia out of the orbit of China and patch up ties with the United States that have perennially been strained by his father's iron-fisted approach.
Hun Manet received a rock-star reception at a big rally on Friday, where he promised a vote for the CPP was for a bright future and warned of unspecified "extremist" attempts to "destroy the election".
'PEACE AND PROSPERITY'
The rhetoric echoes that of Hun Sen in his vitriol against opponents and pre-emptive strikes since May that have included disqualifying the CPP's only meaningful rival, the Candlelight Party, over a paperwork technicality.
Authorities also banned self-exiled opposition figurehead Sam Rainsy and 16 allies from voting and contesting elections for two decades for urging Cambodians to destroy their ballots.
Some did that on Sunday, posting pictures of their ballots on social media, some with writing that disparaged Hun Sen and called him a coward. Another said "U.N. pls help".
Election committee spokesperson Hang Puthea said it was too soon to know how many invalid ballots there were. Two people had been detained, he said, for "little irregularities".
The CPP's selling point has been its rural development and ensuring peace and stability after decades of war, which helped spur average growth of more than 7% until 2019, creating jobs in garment manufacturing and construction.
"I don't really need more from the new leader," voter Nin Sinath, 58, said on Hun Sen's succession. "I have what I want now, we have peace and prosperity for the people already."