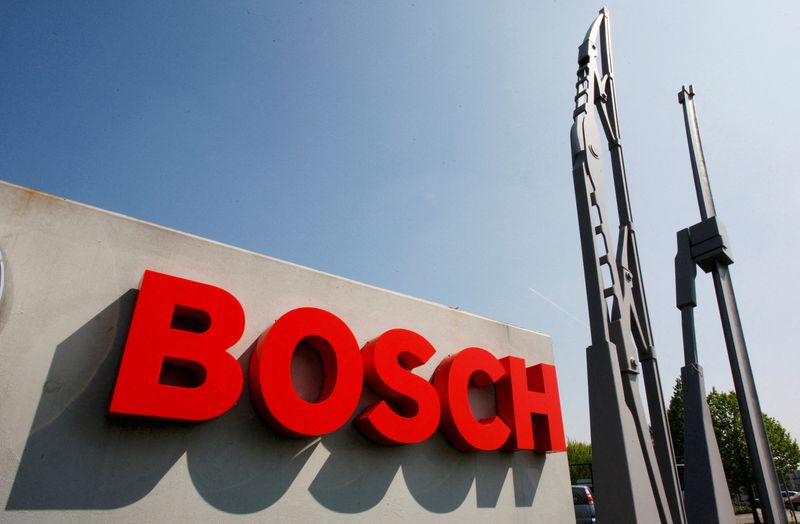 © Reuters. FILE PHOTO: View of the entrance of German automotive parts manufacturer Robert Bosch Belgian plant in Tienen April 21, 2009. REUTERS/Thierry Roge//File Photo
BERLIN/STUTTGART (Reuters) -German automotive supplier Bosch considers recovery in China as key to success this year, it said on Friday, steering clear of concrete forecasts despite reporting a more than 15% jump in full-year operating profit.
"We are observing whether demand will return. It was hugely dampened last year," Chief Executive Stefan Hartung said of the Chinese market, adding that he expects the European and U.S. economies to weaken because of rising interest rates.
China accounts for a fifth of the company's revenue.
Bosch reported earnings before interest and tax (EBIT) up 15.6% at 3.7 billion euros ($4 billion) last year on revenue that rose 10% to 88.4 billion euros after adjustments for exchange-rate effects
Sales at its Mobility Solution division rose faster than automotive production, the company said, increasing by 12% to 52.6 billion euros.
Still, its 2022 operating profit margin of 4% remains below the long-term goal of 7%, which Hartung said he does not expect to reach before 2024 at the earliest.
Demand in 2022 remained weaker than before the pandemic, but Bosch sales benefited from strong demand for climate-friendly technology from carmakers and those seeking alternative fuel sources to Russian gas, the private company said.
"Despite semiconductor shortages and a weak economy, all business sectors were able to increase their sales," said finance chief Markus Forschner.
Pushed by Germany's attempt to wean itself off Russian gas, demand for energy efficient heat pumps rose last year, with sales jumping 50%, Bosch said, adding that it will expand its manufacturing capacity for heat pumps in Europe.
($1 = 0.9152 euros)